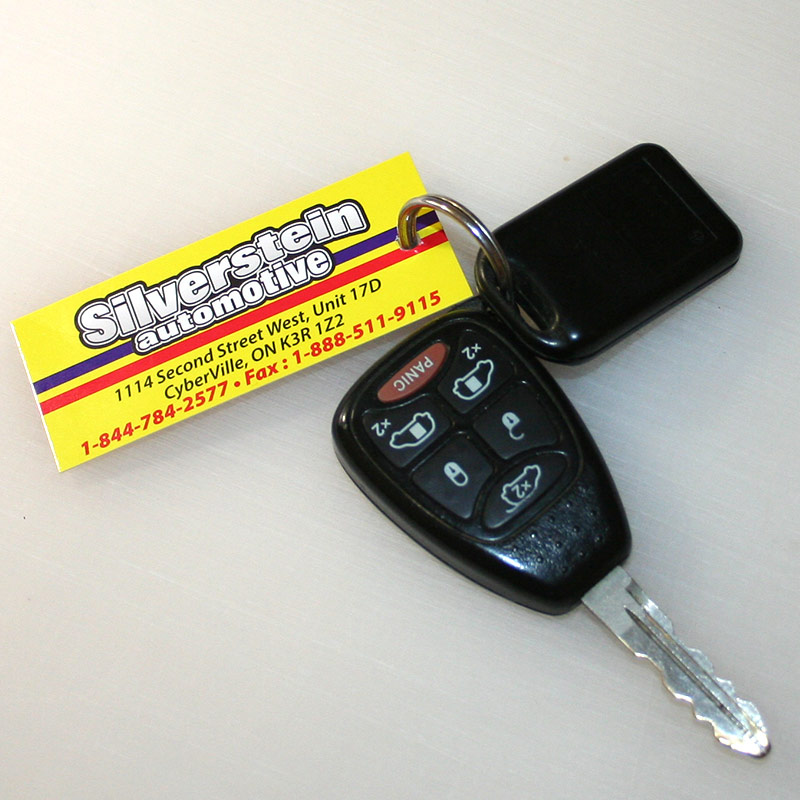 scroll down for more samples
We offer Full Color Double Sided Custom Service Key Tags
Custom Service Key Tags from StickerPla.net contain blank spaces on the back to write in Work Order #, Customer's name or number. Make, Model, Year, Plate #, etc. based on your service needs. The front contains your fully customized business info optionally with your logo . It is an easy and effective way to organize customers' keys at any size of Automotive Dealerships or Garages or Service Stations. StickePla.net provides high quality Key Tag printing with two different coating options as AQ back / high Gloss UV front, or AQ matte front and back, printed on 14pt 95 Bright Stock. We provide High Quality CMYK 4/4 print at 2400 DPI / 300 LPI.
Custom Service Key Tag Prices :
1,000


9.9¢ ea

2,000


8¢ ea

4,000


5¢ ea

6,000


4.2¢ ea

15,000


2.7¢ ea

30,000


2.4¢ ea

Matte AQ/Matte AQ
C$99.00
C$159.00
C$199.00
C$249.00
C$399.00
C$719.00
Gloss AQ/High Gloss UV
C$99.00
C$159.00
C$199.00
C$249.00
C$399.00
C$719.00
For Garages and Dealerships with Corporate Agreement we offer all the Custom Service Key Tags on a discounted price with a minimum order of 15000 pieces at a time. Ask about this option!
Order your Custom Service Key Tag now :
Sample Custom Service Key Tag Artworks
You can browse a few custom Custom Service Key Tag artwork designs below, and by clicking on any thumbnail images you will see the artwork samples in higher resolution
A few reasons and advantages to order your Custom Service Key Tags from StickerPla.net:
two great stock designs to pick from
there is no any hidden cost on our products, the price you see is the price you pay !
Custom Service Key Tag's size : 1.25" x 3"
same price for all coatings : Gloss AQ/High Gloss UV or Matte AQ/Matte AQ
unique high resolution printing
full color 4/4 CMYK printing
we use high quality 14pt 95 Bright Card Stocks
$10 flat rate tracked shipping charge to any addresses in Canada. Expedited, overnight or express service extra.
$20 flat rate tracked shipping to US addresses 
however your first two orders must be paid in advance, starting with your third order we offer net15 and net30 payment conditions without credit check ! 
Custom Service Key Tag product information:
4 color printing process, using CMYK ink configuration
14pt 95 Bright Card stock
2400 DPI / 300 LPI High Resolution Print
Gloss AQ/High Gloss UV or Matte AQ/Matte AQ coating options
Double Sided Print
1.25" x 3.0"
4-5 days turnaround
key rings are not included, but can be bought separately